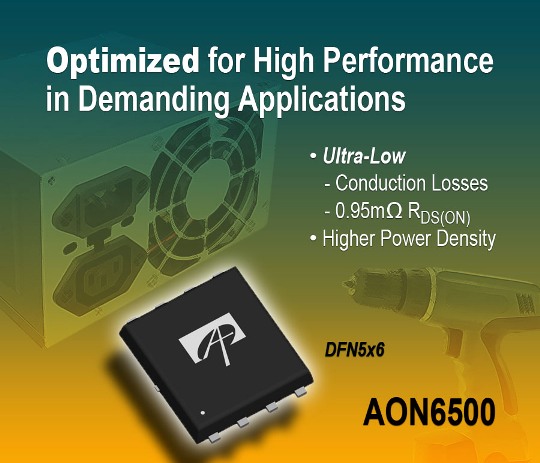 AON6500, a sub-milliohm, energy efficient, 30V n-channel Power MOSFET housed in a DFN 5mm x 6mm package. This new device enables high performance power switching in demanding industrial motor control and advanced power supply applications.

Its ultra-low on-resistance of 0.95mOhm at 10VGS makes it an ideal solution for DC/DC conversion, or using MOSFET, and E-fuse safety switching functions required in high end computing, telecom and point-of-load power supply applications.

The AON6500 employs AOS' proprietary AlphaMOS™ (MOS™) 30V technology, which improves RDS(ON) by 40% compared to the previous generation - which significantly reduces power losses in applications.

The high performance offered in the compact DFN 5x6 package provides designers the flexibility to optimize performance, space, and cost in their power systems.

The AlphaMOS 30V technology enables higher power density and performance in advanced power systems, allowing designers to reduce power losses in demanding applications.

AON6500 is in halogen-free DFN5x6 package and is 100% UIS and Rg tested.