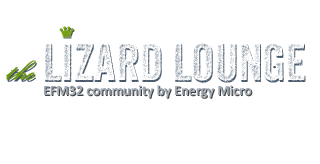 This is an EFM32 forum and knowledge base hosted by Energy Micro support team to give first class EFM32 technical answers that all users can benefit from in the years to come.

Lizard of the year award
The Lizard Lounge includes a reputation system where users can push a "like" button on each other's posts. The accumulated amount will add up to your reputation score. At next year's Annual Distribution Meeting we will have an award for the Disti/Rep member with the highest reputation score in the Lizard Lounge.

The forum is a great way to find help on issues quickly and can greatly help reduce time-to-market for a developer.

Join the discussion group today and Register with Lizard Lounge.
Register now.